---
News update
2019.7.4
The 12th East Asia ATM Coordination Group Meeting will be held from 14th - 16th August at Taipei.
Half day for 16th, technical visit in PM TBC. Partial attendance is welcomed.
Authorized absence will be granted subject to roster availability.
Interested colleagues please contact Cheryl CHAN or any excom member.

2019.6.10
The Asia ATM Friendly Football Cup in Ulaan Batar, Mongolia is now rescheduled to 14th to 17th July 2019.
There will be ATC Forum on the 14th with presentations.
15th and 16th will be the soccer matches.
On 17th there will be visit to Mongolia ACC, AIS and the New Ulaanbaatar International Airport.
Colleagues who are interested please feel free to contact excom members.

2019.4.29
The Asia ATM Friendly Football Cup will be held in Ulaan Batar, Mongolia on 15th to 19th July 2019.
A technical visit to the Mongolia ATC facilities will be arranged as well.
Colleagues who are interested to join the football match or the visit please feel free to contact any member of the excom.

2019.4.9
The Annual General Meeting of session 2018-2019 had concluded yesterday successfully.
The election results of the new Executive Committee and Office Holders were received and adopted without objection.
We have prepared a number of visits and activities for the upcoming year.
You could have a glance on our year plan
HERE
.
Join us today and don't miss the chance for these wonderful events!
The newly elected Executive Committee could be found at the
ABOUT
page and you could contact any of them!

2019.4.9
A vote of thanks was given to Mr. Tommy Au Yeung, the outgoing Vice-President (Technical & Professional) and the President for from 2015 to 2017.
He had leaded the Association through one of the hardest times in our history and his efforts and contributions were deeply appreciated.
2019.3.31
The agenda of the upcoming Annual General Meeting is now availble on notice boards in the Centre and Tower.
It is also available to be downloaded
HERE
.
2019.3.28
A visit to VHSK has been arranged on 6th April 2019, starting at 9am til around lunch time. Parking is available.
Enrollment form is available at tower cab and ATCX notice board. Quota of 20 and priority to FIS rated controller.
Interested colleague can contact CF or any of the excom member.
2019.3.24
The 2019 AGM is scheduled on 8th April 2019. The notice of the AGM could be found
here
.
2019.3.19
The nomination period for the 2019 HKATCA Election has ended and the received nominations could be found
here
.
2019.3.12
Notice of Election
As per the Constitution Section 6, article 6.8, this serves as the official notice for the upcoming Election for the session 2019-2020 and 2020-2021.
Details as follows:
Polling Dates:
27th March 2019 to 31st March 2019
Period:
(1) 10am – 12nn; (2) 3pm – 5pm
Election counter:
CAD HQ ATCB Room 121; HKIA Backup Control Tower 2/f
Posts to be elected:
President
Vice-President (Technical and Professional)
Vice-President (Administration)
Vice-President (Finance)
General Secretary
10 Executive Committee Members
Under the same clause, this notice also opens the nomination period of the abovementioned election.
The deadline of the nomination period will be 10am, 19th March 2019.
Nominations shall be submitted using the official nomination forms.
All paid members of the session 2018-2019 are eligible for nominee or proposer.
Completed nomination forms could be submitted to:
1. any members of the executive committee; or
2. association mail box 424 at CAD HQ ATCB; or
3. email to info@hkatca.org
The nomination form could be obtained at
here
2019.3.3
Here comes the annual cocktail again!
3.5 hours of fun and music, come join us on 27th March at The Terrace at T2!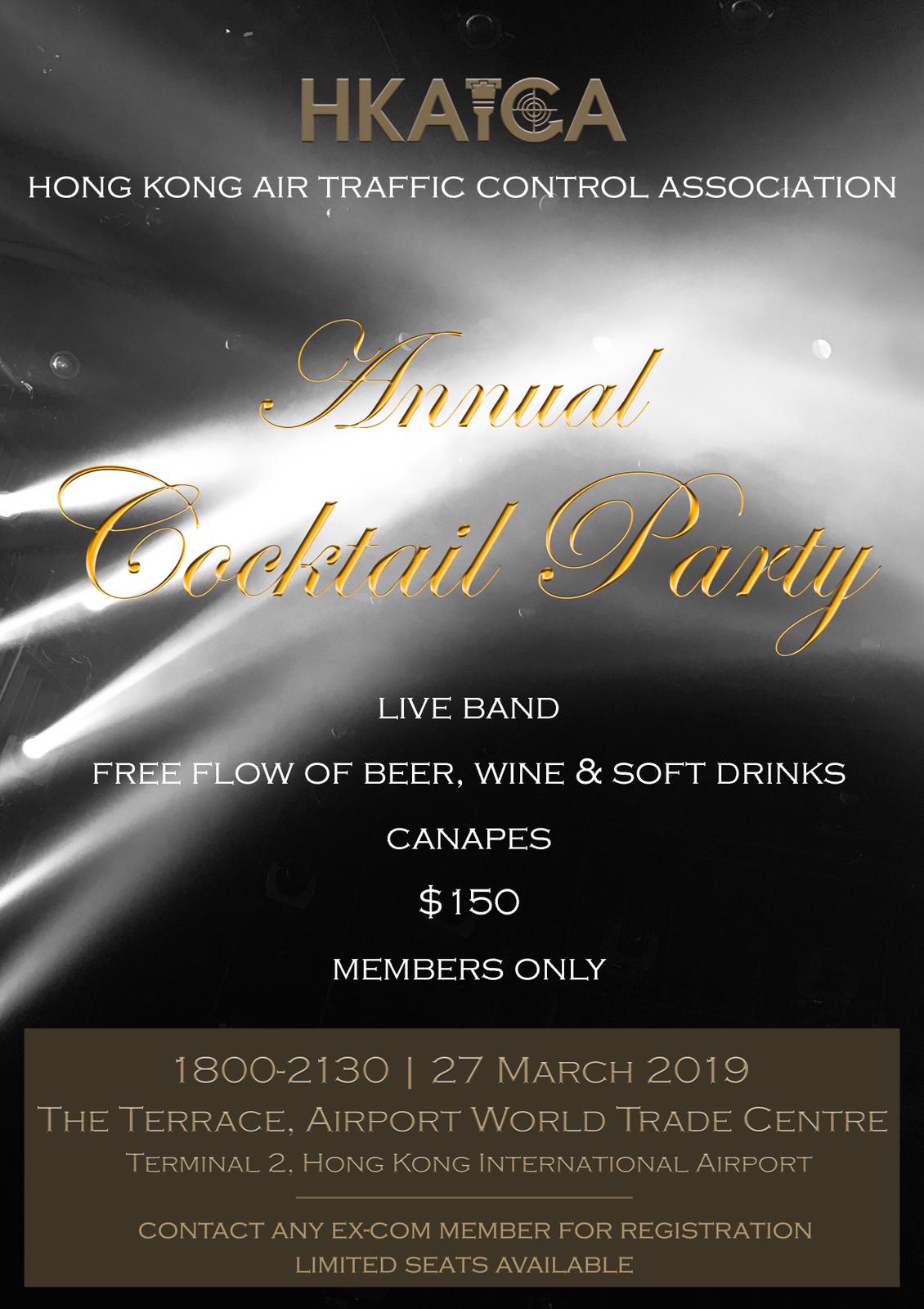 2018.12.20
The upcoming 58th IFATCA Annual Conference will be held in Costa Rica.
If you are interested in the event, please contact any members of the Executive Committee.
For further details, please visit
https://ifatca58.com/

2018.12.09
The Hong Kong Airlines Fleet Meeting will be held on 17th December, where about 40-50 pilots will gather to discuss matters about aviation in HK.
CRK has cordially invited HKATCA and fellow HK air traffic controllers to join the event and share our experiences.
For details please visit the
NEWS
section.
If you are interested to join, you can contact any member of the executive committee.

2018.11.29
CHRISTMAS! PARTY! FUN! Here comes again the CAD Staff Club Christmas Party.
It will be held on the 20th December 2018, starting from 12:30pm at the G/F of CAD HQ OB.
All colleagues are welcomed! Come join us to have fun!

2018.11.1
There will be a visit to VMMC tower and a lunch gathering with VMMC controllers.
If you are interested please feel free to contact any of the members of the Ex-com.

2018.10.12
The Hong Kong ATC-Pilot Symposium 2018 will be held on the 23rd November at the CAD HQ Auditorium.
For more details please visit
the event web site
.

2018.10.1
Anthonius Gunawan Agung, we call him Agung, was born on Oct 24 1996 in Abepura - Papua (22 yo). He has graduated ATC Bath 8 from Aviation Training Centre in Makassar on 2017. He was working at AirNav Indonesia since 04 June 2018 (1 year experience), approximately 3 months active service by the time of the accident.
Any colleagues who would like to join in supporting Agung's family, you are most welcomed to approach any ex-com members of the Association.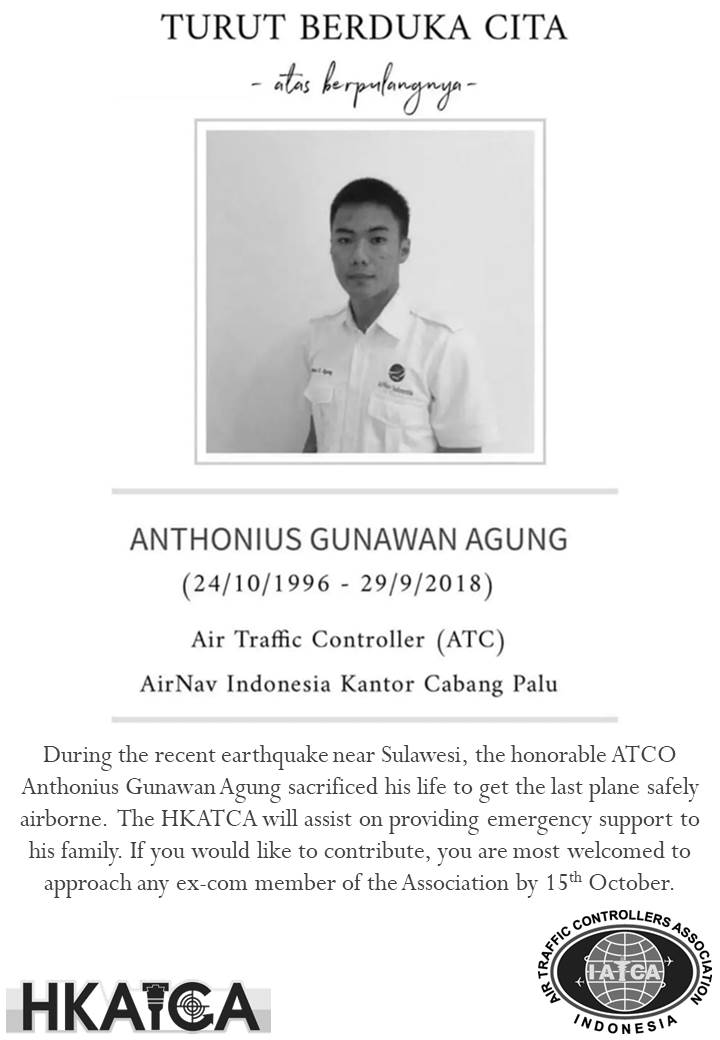 2018.10.1
During the recent earthquake near Sulawesi, the honorable ATCO Anthonius Gunawan Agung sacrificed his life to get the last plane safely airborne.
Rest in peace. Someone will take over.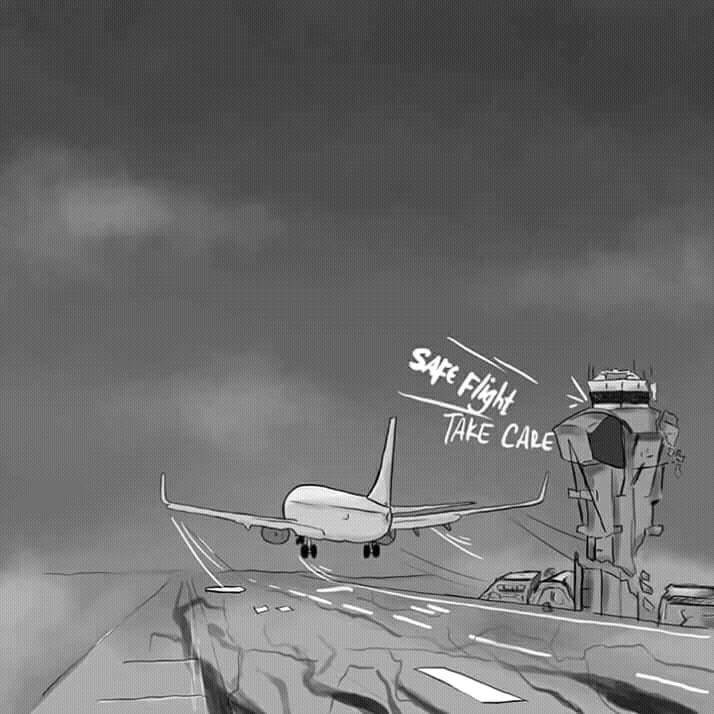 2018.9.11
The 1st Extraordinary General Meeting session 2018-2019 will be held on 26th Sept 2018.
For details please check the notice board.
Archive 2018
Archive 2017
Archive 2016
Archive 2015
Archive 2014